---
Virtual school and personal sport control
by Helena and Tabea
Imagine waking up and managing your day by yourself. Starting the day at any time you want with a learning unit or with a personified sport class with smart watches. In your learn units you're sitting in front of your desktop and seeing the teacher through a webcam. Working alone or in a group is personally adapted to the topic and the subject. Learning in your own speed helps you improving your skills and becoming selfreliant.
To become familiar with the new media, essays and tests are
written digitally.
School today is based on teaching classes of 20-30 pupils of the same
age. The classes are split into oral and written marks, which the
curriculum determines. The use of technology depends on the school
and the knowledge of the teachers. Either the teachers use modern
technologies or students are allowed to use their technical devices. Often students do not have full concentration and much
misunderstanding in their lessons. To prevent this problem, students
work for better productivity at home.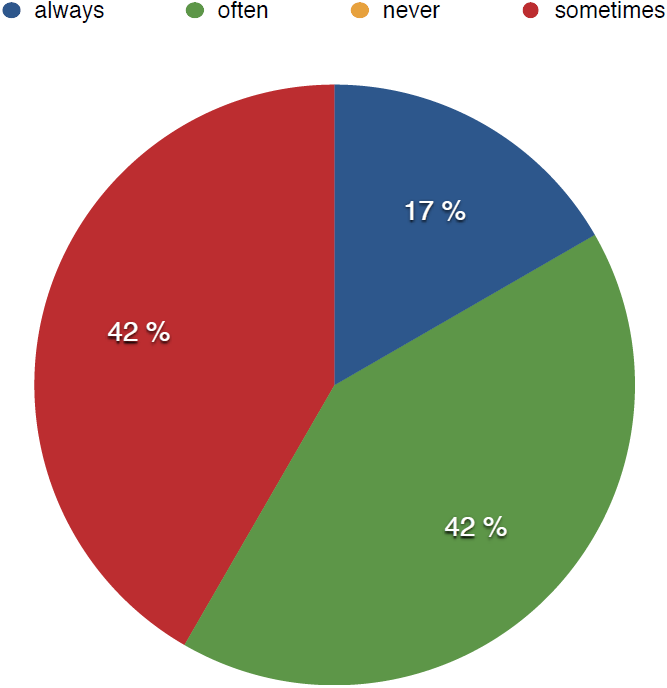 Are you more focused
if you learn at home?
(Student survey at the
Kaiserin-Friedrich-
Gymansium)
Pioneers of virtual school are used commonly in the every day life of
many pupils. Youtube channels like the simple club explain school topics to confused students and help them preparing their tests and exams and understanding the lessons.
To have a balanced and healthy daily life, sport is very important. Smart
watches and personal sport control help the pupils of virtual school to do the right amount and the right sort of sport per week. For most students of the Kaiserin-Friedrich-Gymasium, their health and sports are very important, so this digital school method motivates them.
How important is sport and your health for you? (Student survey at the Kaiserin-Friedrich-Gymansium)

But is the digital school beneficial to pupils and has a positive impact on
their development and education?
First of all every student can learn in his own speed. Some critics say
that the children have too much freedom and maybe also have problems to concentrate and focus on school. Another aspect is that the pupils have no social skills and no teamwork skills because of the isolation at home. The children sit every day alone at home and work. Some pupils feel alone and lose their motivation. Of course it depends on the speed of learning and concentration of the different students. Many educate themselves further and become selfreliant.
In this way the students are prepared for upcoming jobs and
technologies of the future. Nowadays, many new jobs are created that deal a lot with new technologies. Today's generation should be prepared for this technology-dependent future. And the digital school is a appropriate solution to educate the students. Anyways learning is an individual and a social act to get the comprehension in the subjects. In digital schools the focus is on working alone with the technology. One could criticize that learning is not a technical act like in digital school. Therefore will be an excess of digitalization.
On the other hand there exists a direct and fast exchange of topics and projects for some subjects. As a result there are many forms of
communication and information channels. Furthermore digital school is opinion-forming and democracy promoting because they are guaranteed more freedoms.
Furthermore, there is a direct and fast exchange of information, many
communication possibilities and information channels, so that the pupils have the opportunity to continue their education independently and
diverse.
Finally, it is important to underline that digital school is an excellent way to guarantee students a varied, digital, free and modern education. It is also personalized to the different students so that no student feels alone. In addition, there are still teachers who help the students, as in the classical school.